New year, and (long overdue) new blog!
Yet again I have abandoned my blog. What a bad blogger I am, but Iím back. It was a very busy autumn for me, as it always is in the run up to the christmas period, where orders go from a trickle to a torrent. But this year I decided I could squeeze in a 10 week textile course as well! And somehow, I did manage it, though there were some really long days, and much weekend working to keep up with the orders and the coursework. But I loved it!
The course was at Malvern College of art, which is an hour and 15 minute drive (if youíre lucky!) from my house. The course was taught by the lovely, creative, funny and talented Angie Hughes, who not only taught but inspired me to make all sorts of pieces of work (some Iíve even finished!) out of my comfort zone and well out of my knowledge zone. You can look back and see some of the bits on my instagram but my favourites are definitely the beetles. Layered handprinted fabric, that Iíve embellished with all sorts of chains, beads and watch parts, they are really enjoyable to make. Available direct from me, or in my Bristol shop, fig.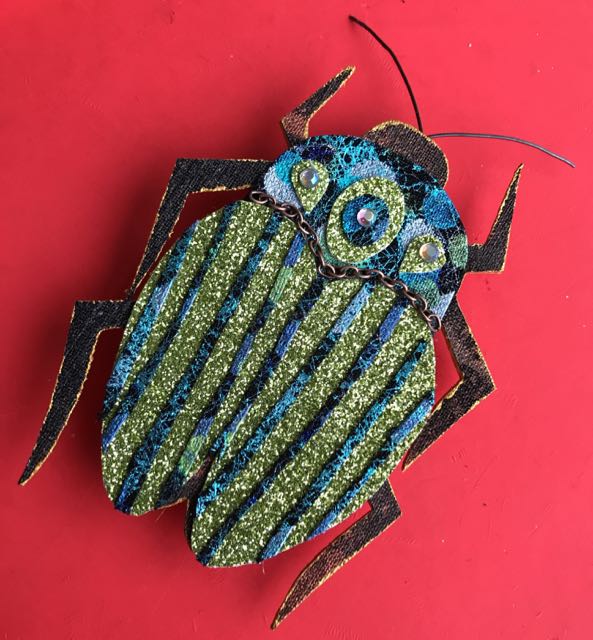 While on the subject of my Ďotherí creative life, I also took part in a fantastic craft fair in Devon, run by the super-talented, and loveliest of peeps, Tracey Benton. It was the first showing of my embroidery work, and I had some lovely feedback and a fair few sales too. You can see some of my work in my etsy shop.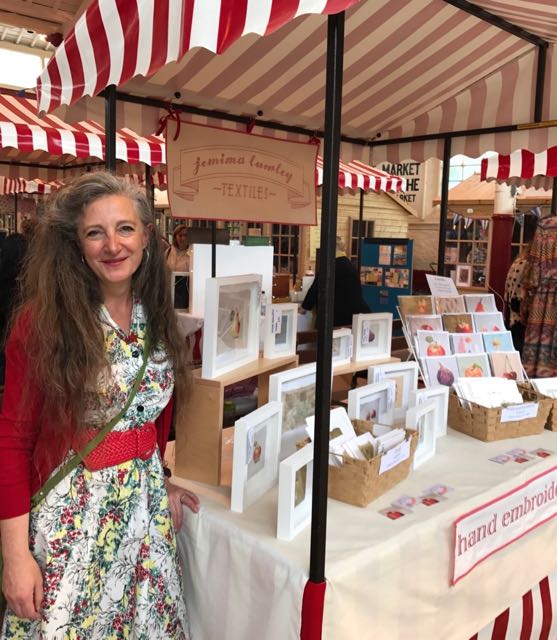 Meanwhile at home, my daughter headed off for University in Sheffield and my son moved to a specialist engineering school, so it has been all change, and I forget how long it takes to adjust! The house is an ongoing project (see earlier blog posts, but essentially we moved to a 1930ís house that had been untouched by modernisation since the 1970ís) and we have laid half the garden to a stone terrace, and we finally have a properly functioning under stairs toilet, that actually has a light, a toilet that flushes and a hot tap! All mod-cons.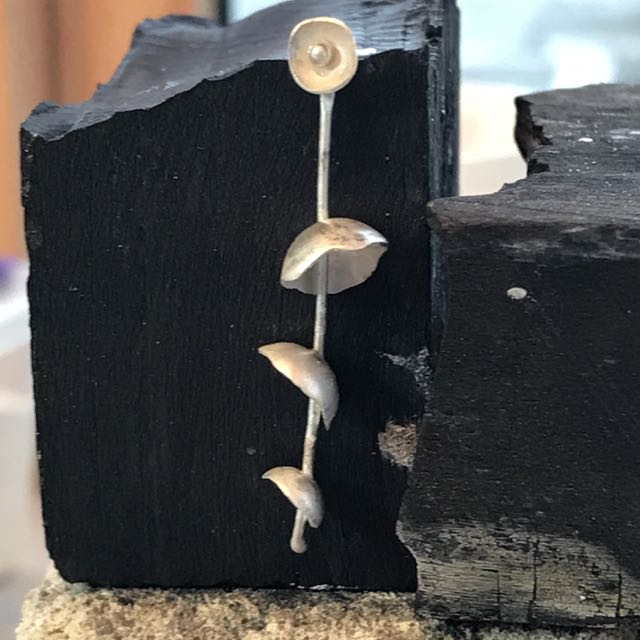 I always rest thoroughly over christmas in part because Iím knackered, but also it is my wedding anniversary and birthday either side of Christmas itself, so this is my first Ďproperí week back at work. Seeing the amazing work of a kinetic sculptor William Waterhouse on instagram, reminded me of some jewellery I made at college. The pieces eventually turned into my wild roses collection, but the initial pieces were more abstract and individual, so yesterday I reopened the ancient sketch book (blew off the dust!!) and started work. Above is the first earring, a work in progress, but I do love it! Though it looks like a trailing plant, or perhaps mushroom/lichen, the original starting point was a handbag! I had cut out a picture from a magazine of this crazy (and very impractical!) handbag with lots of trailing fringes that had buttons at irregular intervals. You never know where inspiration will spring from!
Until next time (very soon!) Happy New Year!
jemima x
about the author
After almost 20 years as a designer in children's publishing a short silversmithing course in 2006 prompted a change of direction.
The following year I enrolled on a part-time jewellery course, and found a local studio where I could make and sell my work.
In 2009, together with five other crafts people we found a shop space to rent on our busy local high street, the gloucester road, called Fig. We are open tuesday - saturday, 9.30am - 5pm (except August).
archive